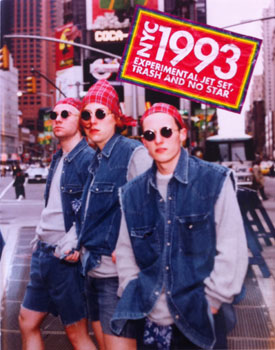 NYC 1993: Experimental Jet Set, Trash and No Star
Edited by Massimiliano Gioni, Gary Carrion-Murayari, Jenny Moore, and Margot Norton
new museum, new york, 2013

"NYC 1993: Experimental Jet Set, Trash and No Star" looks at art made and exhibited in New York over the course of one year, providing a synchronic panorama in which established artists and emerging figures of the time are presented alongside the work of authors whose influence has since faded from the discussion. Centering on the year 1993, the exhibition is conceived as a time capsule, an experiment in collective memory that attempts to capture a specific moment at the intersection of art, pop culture, and politics. The exhibition draws its subtitle from the eponymous album that the New York rock band Sonic Youth recorded in 1993 and captures the complex exchange between mainstream and underground culture across disciplines, which came to define the art of the era. The New Museum's exhibition will include a number of historical reconstructions of important installations and exhibitions from 1993, while other works will be revisited and reinterpreted from the vantage point of today—highlighting the ways in which certain actions, events, attitudes, and emotions reverberate towards the present. These works will sketch out the complex intersection between art and the world at large that defined the 1990s and continues to shape artistic expression today.
New Museum; 2013
Softcover; 8.5" x 11"
183 pp; 64 color and 16 b&w images
ISBN 9780985448561
Available at the New Museum Store