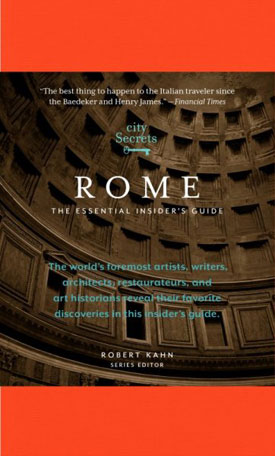 City Secrets Rome : The Essential Insider's Guide
edtied by robert kahn
Fang Duff Kahn Publishers, 2011
City Secrets Rome: The Essential Insider's Guide brings together the recommendations of artists, writers, historians, architects, chefs, and other experts whose passionate opinions and highly informed perspectives illuminate well-known sites as well as overlooked treasures. These expert travel companions share with you their favorite little-known places including restaurants, cafés, art, architecture, shops, outdoor markets, strolls, daytrips, as well all manner of cultural and historic landmarks. Clothbound, elegant, and pocket-sized, City Secrets Rome features a subtle, non-guidebook design and detailed maps. With over 250 contributors and 400 entries, this curated travel guide is a valuable supplement to any book more devoted to travel basics.